Bleeding Gums with Porcelain Veneers
I've been excited about my porcelain veneers. They're much more elegant looking than my natural teeth. My husband says it's given me confidence. I'm a little worried though. Recently, when I brush there's been some red on my toothbrush. I went in for my first checkup since getting the veneers and they said I've developed gum disease and have to do much better brushing and flossing. I've always had good oral hygiene and haven't changed anything. Is this normal with porcelain veneers? Am I supposed to brush differently with them?
Miranda
Dear Miranda,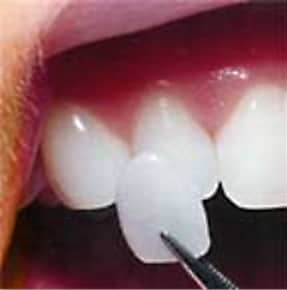 No. This isn't normal at all. You should be able to brush and floss just like you always have if your porcelain veneers are properly placed. I'd like you to look at the very top of your veneers. It's possible your dentist is a good family dentist but lacks expertise in certain cosmetic procedures. There could be bulky margins meaning the veneers don't sit flush with your teeth creating a tiny shelf at the top. Bulky margins are a haven for bacteria leading to both decay and gum disease.
If you do have bulky margins, that's a problem. They'll need to be replaced. The good news is you can get them replaced for free! Your dentist did them wrong. I know you love your porcelain veneers and that's a great thing. But, you'll love them, even more, when they won't cause you gum disease.
Go to your dentist and let him know what's going on. If he has integrity, he'll admit what he did and offer to make it right. If he's not a man of integrity, don't worry, there's still a solution.
Getting Porcelain Veneers Done Right
The first thing I want you to do, if it's financially feasible for you, is to get a water pic and try to get whatever is caught in the margins out. We don't want your gum disease to progress. Advanced periodontitis can cause you to lose teeth.
Next, go see an expert cosmetic dentist. Finding one is easy. Look on the mynewsmile.com website. They have a link for locating great cosmetic dentists. You simply put in your zip code and how far you're willing to travel. They'll provide you with a list of dentists in that range.
Get a second opinion from the dentist on your veneers. If he or she agrees you have bulky margins, they can help you get them replaced.
Basically, you'll have two choices.
1. Give your dentist another chance to make them correctly. We all start out without being experts and need practice and experience. But, if he had trouble admitting his mistake I would be hesitant to let him try again.
2. Get a full refund from your dentist and apply that to having an artistic cosmetic dentist re-do your case.
This blog is brought to you by Naperville Dentist Dr. David Newkirk.