If you are unhappy with your smile, porcelain veneers from Naperville cosmetic dentist David R. Newkirk, DDS can work magic. Movie stars and celebrities often use these sturdy, aesthetically-pleasing restorations to enhance the appearance of their smiles, but they are actually affordable enough that you can have them, too, if you want!
Dr. Newkirk is known around the world for his expert dentistry. In fact, other dentists and even members of the Saudi royal family have chosen him for his expertise. If you are interested in achieving long-term cosmetic enhancement with a minimally invasive dental procedure, we urge you to schedule a consultation with our very own Dr. Newkirk.
What Are Porcelain Veneers?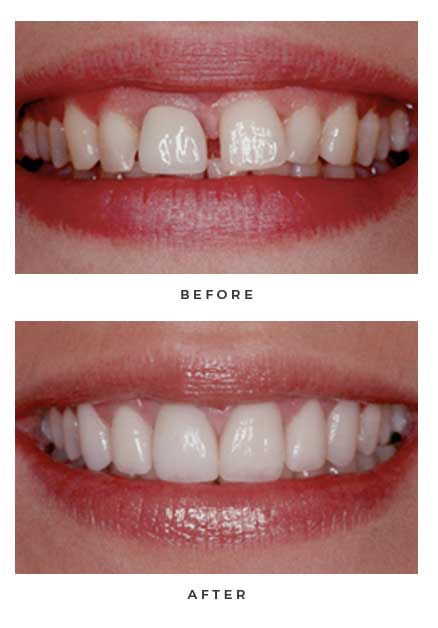 Porcelain veneers are thin shells of porcelain – about the thickness of a fingernail – that are cemented to the front of teeth with a strong adhesive. Veneers are a popular solution for a variety of aesthetic dental concerns, not limited to cracks, misalignment, and discoloration. While veneers can be constructed out of many different materials, including resin and other types of plastic, porcelain veneers are generally the most durable and can produce a very lifelike white shine.
Here is a sample of one of Dr. Newkirk's patients before and after the porcelain veneers procedure.*
One of the two front teeth, the one on our left, is actually an existing crown. Dr. Newkirk replaced that crown and matched it with a set of porcelain veneers. Notice how the front tooth on our right is not only crooked, but the gumline is higher than its companion front tooth.
With careful planning and artistic talent, Dr. Newkirk produced an effective result: the teeth appear perfectly straight, bright, harmonious, free of gaps, and totally natural. Looking at these veneers, no one would know that they are not the patient's own natural teeth.
*Actual patient of Dr. Newkirk
What Are the Benefits of Porcelain Veneers?
Professionally-crafted porcelain veneers can:
Lengthen or shorten teeth
Erase discolorations and spots
Help crooked teeth appear straighter
Fix an asymmetrical smile
Mask cracks, chips, and breaks
The possibilities seem to be endless! Due to these potential benefits, patients frequently choose to incorporate porcelain veneers into their smile makeover. This customized cosmetic dentistry procedure usually includes two or more treatments to straighten, brighten, and comprehensively beautify the smile.
What Happens During the Porcelain Veneers Procedure?
The first step in the porcelain veneers procedure is a consultation with Dr. Newkirk. This initial meeting can be a wonderful opportunity for him to determine whether veneers or another option is best to meet your functional and aesthetic needs. He will perform a thorough evaluation of your oral health and recommend additional treatments if necessary. Once the two of you decide upon porcelain veneers, the treatment officially begins.
The veneers process is known as a "minimally invasive" procedure because of the minimal adjustment that needs to be made to your natural teeth before the restorations can be placed. In general, only a small amount of enamel will need to be removed to make room for a veneer. After this initial step, Dr. Newkirk will use our advanced dental imaging system to take an impression of your mouth and send it to our skilled ceramist, who will fabricate the restoration(s) to match your natural teeth in shape and shade.
Dr. Newkirk will then place the veneers and bond them to your teeth using a special hardening cement. This adhesive often renders the veneers so secure that patients liken them to a "second enamel." To complete the procedure, he will polish the veneers to give them an extra shine.
How Long Do Porcelain Veneers Last?
Porcelain veneers can last for several years before needing replacement. Dr. Newkirk prefers to use this material for its tendency to produce long-lasting aesthetic improvement, among a plethora of other reasons. Porcelain veneers are designed to resist stains and withstand considerable force.
That said, to keep your veneers looking great and functioning optimally, it is important to practice good oral hygiene. This means brushing at least twice a day, flossing nightly, and attending exams and cleanings as scheduled. You should also avoid biting down on hard foods or attempting to open packages with your teeth, as this may wear down the material over time.
How Much Do Porcelain Veneers Cost?
In the United States, porcelain veneers cost approximately $925 and $2,500 per tooth; however, the precise cost will depend on factors such as:
The number of teeth treated
The number of veneers crafted
Additional treatments, where necessary
Sedation dentistry techniques
Please allow our team to assist you with the financial aspect of your care wherever we can. For your convenience, we accept all major credit cards and are glad to communicate with insurance providers if you so desire (though it is important to note that most plans will not cover solely cosmetic procedures, such as the placement of veneers).
"I just had a couple veneers done and I am SO happy with the results. My experience from beginning to end has been amazing."
For more information about porcelain veneers, reach out to our friendly team today. We would be happy to help you obtain your dream smile!