The crown is one of the most versatile types of dental restorations. When crafted and placed by a qualified dental professional, a crown can repair and strengthen a damaged tooth, protect a vulnerable tooth, and enhance both the function of the mouth and appearance of the smile.
While dental crowns can be constructed out of several types of material, our Naperville cosmetic dentist, Naperville cosmetic dentist, DDS, prefers to use porcelain to create these restorations. Our all-porcelain crowns can be made the same shade, texture, and translucency as your natural teeth and are the closest we can come to a totally natural look. Allow Dr. Newkirk and the rest of our experienced team to help you improve your oral health with all-porcelain crowns.
"Simply put, exceeded my expectations in every way possible. From the friendly and knowledge staff to the expertise of Dr. Newkirk."
What Are Porcelain Crowns?
Also referred to as a "cap," a dental crown is built to seamlessly replace the visible portion of a tooth. Placed atop teeth that have suffered chips, cracks, breaks, or severe decay, crowns are designed to aid in important processes such as speaking and chewing. Additionally, crowns are regularly incorporated into larger restorations and treatments, particularly dental implants and bridges.
Porcelain-Fused-to-Metal Crowns vs. All-Porcelain Crowns
Although the use of metal amalgam is much less common in today's dental world, many dentists continue to place porcelain-fused-to-metal crowns on front teeth. While these crowns are white on the front, they have a metal foundation to help give them strength. There are a couple problems with a crown with a metal foundation.
The first is that an opaquer must be placed over the metal to mask its color. That can make the tooth look pasty or chalky. The second is that unless the crown is made by an exceptionally skilled ceramist, such as the one we have, there will be a darkening effect produced by that metal at the margin of the crown where it meets the tooth. This is at the gumline. That dark line can be camouflaged by keeping it under the gum. The problem is that our gums tend to recede as we get older, so that dark line can later show up. Besides not looking very good, the dark line is a giveaway that the teeth are fake.
Even from close range with the trained eye of a skilled cosmetic dentist, it can be difficult to pick out a false tooth in a smile if it's made out of pure porcelain. Let's illustrate with a case done by Dr. Newkirk.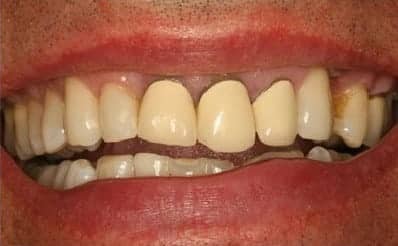 In the patient photograph above, it's pretty easy to pick out the crowns. They're on the patient's two central incisors and one lateral incisor. The color is flat, and he has that characteristic dark line at the gumline beginning to show. This is a typical look for porcelain-fused-to-metal crowns.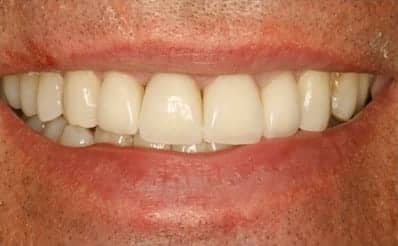 Here, Dr. Newkirk replaced the old dental work with beautiful all-porcelain crowns and some porcelain veneers to complete a smile makeover. Can you tell which teeth have the porcelain on them and which are completely natural? It's practically impossible to tell. As such, Dr. Newkirk believes that all-porcelain crowns are the best option for most of our patients.
What Does the Porcelain Crown Procedure Involve?
Before determining that you need a dental crown, Dr. Newkirk will perform an in-depth examination of your oral health. During this initial visit, he will create a plan to meet all of your needs, which may include additional procedures (e.g. implants or bridges) or treatments aimed to prepare your tooth for a crown, such as removal of enamel or decay. You will be given a temporary crown to wear while your permanent restoration is being built.
Using our state-of-the-art digital impressions system, Dr. Newkirk will then take an impression of the tooth or teeth to be treated and submit it to our ceramist, who will match the data to lifelike shades of porcelain. At your next appointment, Dr. Newkirk will remove the temporary crown and attach the custom-crafted crown using a durable cement or bond.
Is It Painful to Get a Porcelain Crown?
The application of dental crowns is not typically considered a painful procedure, but some patients report a slight pressure when the crowns are first placed. This sensation should fade as the patient gets used to the restoration.
Because Dr. Newkirk and the rest of our team understand that pain is subjective, we offer nitrous oxide sedation or oral conscious sedation to manage discomfort and ease anxiety throughout your care. Dr. Newkirk can further discuss our sedation dentistry options during your first visit.
How Long Do Porcelain Crowns Last?
When cared for properly, porcelain crowns can last for years at a time, occasionally even exceeding a decade. That said, in order to keep your crowns looking beautiful and functioning optimally, it's important to practice good oral hygiene. This includes brushing at least twice a day, flossing every night, and attending regularly-scheduled dental exams.
How Much Do Porcelain Crowns Cost?
The cost of a porcelain crown typically range from $1,000 to $2,500; however, it should be noted that the price depends on several factors, such as:
The number of crowns being placed
Preliminary treatments (e.g. enamel or decay removal)
Additional procedures or restorations 
The use of sedation dentistry/the type being administered
For your convenience, we accept all major credit cards and most dental insurances. Please feel free to reach out to our friendly team with any financial questions.
If you would like to find out if all-porcelain crowns can transform your smile, we welcome you to contact us today.