Missing teeth can present more than just an aesthetic concern. Not only can noticeable gaps be the source of self-consciousness for many patients, but even just one missing tooth can create a variety of functional problems. Thankfully, a popular solution exists in high-quality dental implants, which can replace a tooth from its root to its crown. Depending on the patient's individual needs, implants can replace single teeth or entire rows of teeth.
Our Naperville cosmetic dentist, David R. Newkirk, DDS, has extensive experience in all areas of dentistry, including the complex field of implantology. Using advanced dental technology and durable materials, he can establish a personalized care plan to determine how dental implants can enhance your smile and improve your oral health.
What Are Dental Implants?
Dental implants are the gold standard for teeth replacement in the modern dental world. They typically consist of two parts: a titanium post which is surgically embedded into the jawbone to serve as the tooth's "root," and a durable dental crown that replaces the visible part of the tooth. 
At our practice, implants are custom-crafted to emulate your teeth in function and appearance. As a result, patients are typically able to resume activities like chewing, eating, and speaking with ease. Because our crowns are made of a lifelike porcelain and matched to the unique shade of your natural teeth, they often provide an authentic shine that flatters the smile's individual aesthetic. Additionally, our crowns are designed to last and perform optimally for several years before needing replacement, while implants can last for decades, if not your lifetime.
What Are My Dental Implant Options?
An extremely versatile type of dental restoration, implants are able to replace one or multiple teeth to benefit the function of the entire mouth. We proudly offer the following varieties of dental implants:
Single Tooth Replacement with Dental Implants
If you have lost a single tooth to gum disease, decay, or extraction, a single dental implant may be your ideal solution. Single-tooth implants can also be used to replace multiple teeth at a time, one by one.
Fixed Bridges
A common remedy for two to three missing teeth, fixed dental bridges consist of crowns supported by implants that are embedded into the jawbone, with an attached artificial tooth that helps fill (or "bridge") the gap. The implants support the bridge and often provide a very sturdy, comfortable fit. 
Implant Dentures
Having essentially taken the place of traditional dentures as the most desirable replacement option for entire rows of teeth, implant-supported dentures hold a number of advantages against their removable counterparts. The use of dental implants in a denture often creates a more stable fit that is free of slippage and does not require messy adhesives or pastes.
Dr. Newkirk can help you choose between one of the above restorations after a thorough evaluation of your oral health care needs.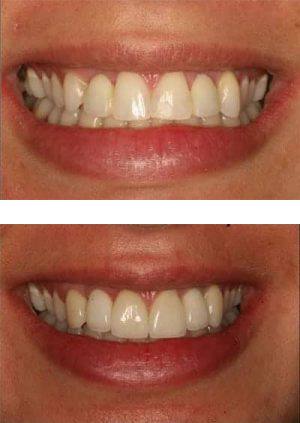 Here are before-and-after photographs of one patient with missing lateral incisors who chose to have Dr. Newkirk replace her old dental bridges with dental implants.
Before
On the patient's right (our left) it is particularly obvious that the lateral incisor is a false tooth. It laps over the gum, which is sunken in because there is no tooth root there.
After
Dr. Newkirk also used porcelain veneers to help enhance her smile. Her right lateral incisor now looks like it is growing out of the gum because there is a root form fixture under the gum.
Dr. Newkirk is among the leading restorative dentists restoring dental implants in the Chicago area, based on the number of restorations he places. You can have full confidence in our office that you are receiving the best of care.
What Should I Expect from the Dental Implants Procedure?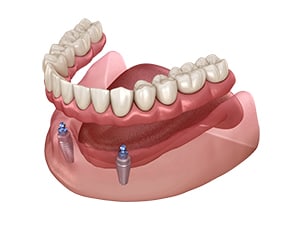 Dr. Newkirk begins the dental implant treatment with an in-depth evaluation of your oral health, from your teeth and gums to oral structures and jawbone density. After he has ensured that your periodontal health is stable and you have sufficient jawbone strength to support an implant, Dr. Newkirk will surgically embed the titanium post into your jawbone. Following surgery, the implant should fuse into your jawbone in a process called "osseointegration," which can take anywhere between three and six months.
Once osseointegration is complete, the tooth replacement will be finalized with a lifelike restoration, which we will create with our state-of-the-art digital impression system. In some cases, Dr. Newkirk will perform bone grafting to provide the jawbone with extra strength, periodontal treatment to trim away excess gum tissue, or another type of preliminary procedure to prepare your mouth for implants. The crown, bridge, or denture will be attached to the abutment, and the treatment is complete.
What Is Recovery Like from Dental Implant Surgery?
Recovery from the dental implants procedure is generally not considered long or particularly painful, but the postoperative period will vary between patients based on the specificities of their care. During the osseointegration process, you may experience slight soreness or swelling as your jawbone grows used to the implants. These effects are also common after the restoration has been fully placed. Any discomfort can usually be mitigated with pain medications or over-the-counter anti-inflammatories. 
After the procedure is complete, Dr. Newkirk will provide personalized aftercare instructions to help you heal as quickly and comfortably as possible.
How Much Do Dental Implants Cost?
In the United States, the cost of a single dental implant typically ranges between $1,000 and $3,000. Keep in mind that this price is contingent upon a number of factors, not limited to:
The number of implants
The type of implant restoration being crafted (e.g. dentures, bridges, or single-tooth implants)
Additional procedures needed, such as extractions, bone grafting, or gum treatments
Anesthesia and/or sedation dentistry fees
Postoperative care and medications
To make the financial aspect of your care as stress-free as possible, we accept all major credit cards and most dental insurances. A friendly member of our team will work alongside you to help you understand your benefits and enjoy your experience at our office. Please feel free to reach out to us with any questions about paying for your treatment.
Are you interested in dental implants? Contact our practice for more information!