Dental Implant Crown Doesn't Match
This is the third crown my dentist has done for my dental implant. He can't seem to get it to match. The last exchange we had he accused me of being too picky and I should be happy that I have a tooth. Apparently my tooth color is between A1 and A2. I don't understand why it is impossible with a crown if my dental flipper matched okay? Now he says if he removes it one more time, I risk losing the dental implant because we keep pulling at it. I don't want to risk losing the implant, but is it too much to ask for my teeth to match? Am I being too picky?
MaryAnn
Dear MaryAnn,
I don't like it when dentists try to reflect their lack of skill on their patients. You are not asking too much just because you want your teeth to match. Plus, I don't think you are overly particular if you were pleased with the dental flipper. They're not known for being very artistic.
What you are running into is a dentist who isn't used to doing detailed cosmetic dentistry. Picking a basic shade, such as A1 or A2 is fine for back teeth, but for front teeth the dentist has to put in much more effort. Even expert cosmetic dentists know it will take a few tries to match a single crown to a front tooth. That is why they won't bond it on until they get the color map just right. That was another hint to me that your dentist didn't understand cosmetic dentistry. Otherwise, he would have used a temporary try-in paste to check the results before bonding.
So what does a cosmetic dentist do to match a tooth that is between two shades? I mentioned a color map just a moment ago. The image directly below is an example of that. This shows how a cosmetic dentist will use tints to change the visual perception of the color.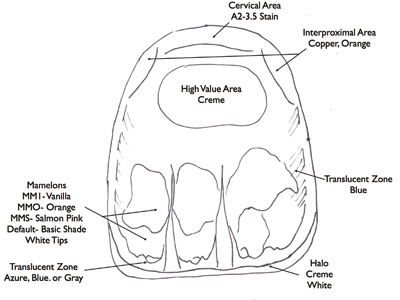 Getting Your Crown to Match Your Teeth
At this point, I don't think your current dentist is the one for the job. I'm going to suggest you just ask for a refund on the crown and tell him you're going to have it done by someone else. Removing the crown again should not be a problem. If he did the dental implant procedure properly, it should be well integrated with the bone.
The next thing you need to do is find a skilled, artistic cosmetic dentist who can match a crown to a single front tooth. Because there isn't a recognized cosmetic dentistry specialty makes it challenging for patients. Combine that with the fact that smile makeovers and other advanced cosmetic procedures aren't taught in dental school and it is hard to know which dentists have the training and which do not.
One resource I can recommend is the mynewsmile.com website. They prescreen dentists for their cosmetic training, technical understanding, and artistry in their work. If you go to that website, there is a "Find a Cosmetic Dentist" link. You input your zip code and how far you are willing to travel. They'll pull up a list of qualified cosmetic dentists for you.
Hope this helps.
This blog is brought to you by Naperville Cosmetic Dentist Dr. David Newkirk.