Looking for a Cheap Way to Fix Tetracycline Stains
I have tetracycline stains I want to fix. I think I want to get porcelain veneers, but wondered if they will cover the whole tooth or just the front. I don't have a lot of money. Do you think I could get a discount if I went to a dental school to have them done?
Bruce
Dear Bruce,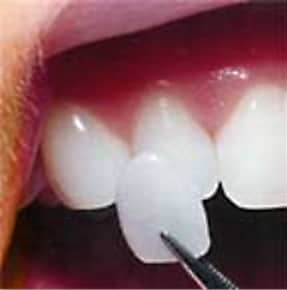 Porcelain veneers only cover the front of the teeth in most situations. However, with tetracycline stains, you want them to wrap around the sides a bit so there aren't dark shadows around the sides. I'm going to tell you upfront that tetracycline stains are some of the hardest to treat. You don't want to do this at a dental school. Dental school is for the engineering side of dentistry. In fact, most of the instructors look down on cosmetic dentistry. Smile makeovers are a skill learned in post-doctoral settings.
If you had it done with a dental school, it would be the student's first porcelain veneers case. It would very likely be the first case the instructor did too. Even with an easy case, this would likely turn out badly. But, as I said earlier, tetracycline stains are the most challenging case to treat. Because of that, you need an expert cosmetic dentist. I wouldn't trust anyone who charged less than $1000 per tooth. Even then, I want you to ask to see before and after pictures of tetracycline cases he's done. Make sure you love the results before moving forward.
Dealing with Tetracycline Stains Cheaply
If doing it with an expert cosmetic dentist is out of your reach, you are better off doing nothing. However, there might be something you can at least try which won't cost too much. In general, teeth whitening doesn't help much with tetracycline stains. However, there is one brand which has had more success than the others. Kor whitening uses some slightly different methodologies to activate the whitening gel which increases its potency.
It may be worth it to you to try the whitening first. If that doesn't work. I'd save up to have it done properly.
This blog is brought to you by Naperville Cosmetic Dentist Dr. David Newkirk.