Porcelain Veneers for Tetracycline Stains
I have struggled with embarrassing tetracycline stains my whole life. I'm about to graduate college and have a job which will allow me to finally get my smile fixed. I spoke with my family dentist and he wants to do dental crowns. I'm a little leery of this because, other than the stains, my teeth are completely healthy. I'm not sure I want to grind them down. I asked about porcelain veneers and he didn't think they'd work. I'm hoping if they don't there's another option.
Callie
Dear Callie,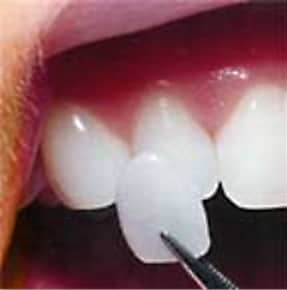 Your family dentist is steering you away from porcelain veneers, not because they can't be done, but because he is not skilled in them. Many general dentists use porcelain crowns as a crutch. They think the added thickness will help with covering the stains. As you've noted, though, it means you have to grind down healthy tooth structure.
Tetracycline stains are among the toughest stains to cover. The porcelain veneers have to be opaque enough to cover the stains, yet translucent enough to still look natural. I would say only about 1-2% of dentists have the ability to pull off this type of smile makeover. You truly need an expert cosmetic dentist. You'll have to be careful about who you choose.
Finding an Expert Cosmetic Dentist
There isn't a recognized specialty in cosmetic dentistry. Even worse, doing smile makeovers aren't taught in dental school. If a dentist is interested in doing cosmetic work, they have to invest time and training in the skills on their own at post-doctoral institutions.
It's hard for patients to know which of these institutions are reputable and do a great job teaching how to create a beautiful smile. To help with this, mynewsmile.com has a "find a cosmetic dentist" page. They pre-screen each dentist who wants to be listed on their page.
The dentist has to show they've received the right post-doctoral training. But, technical skill alone isn't enough to be listed. The dentist then has to show they have an artistic eye by providing visual evidence of cases they've done. Once their skill and artistry are verified, that's when they are listed. Not before.
While this shouldn't be a problem with anyone listed on their site, make sure you get to see the porcelain veneers on your teeth with a temporary try-in paste in several different types of lighting before they are bonded onto your teeth. Don't approve them unless you are pleased.
This blog is brought to you by Naperville Cosmetic Dentist Dr. David Newkirk.