Should All My Son's Teeth Be Removed
My son is 25 years old. He's in recovery for drug addiction. He's doing really well in his recovery and now we're trying to get the rest of him into shape. I'm writing to you specifically about his mouth. It's a complete mess. We've already taken out six teeth while he was in rehab. He's home now and we're going to our family dentist now. He wants to remove the rest of his teeth and give him dentures. I guess that's the best solution, but I hate to think of him in dentures at his age. Am I making a big deal out of nothing? My dentist thinks I'm over-emotional about it because he's my son and I need to think about it logically.
Victoria
Dear Victoria,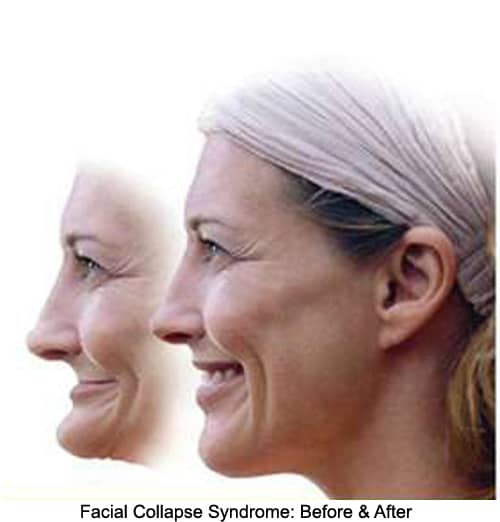 I'm going to be very blunt here. You're being more logical than your dentist. What he's doing is making his own life easier, but your son's life a complete misery. That is absolutely not what a recovering addict needs right now. Plus, he's only 25 years old, as you've pointed out.
When his teeth are removed, his body will recognize that. As a result, it will begin to resorb the minerals in his jawbone to use elsewhere in his body. It does this in an effort to be as efficient as possible with its resources. This loss of jawbone will mean that his face will start to scrunch up, aging his appearance by decades. You can see an example of that in the photo above.
This bigger problem will be there will no longer be enough jawbone left to retain his dentures. This is known as facial collapse. Without that support, he won't even be able to eat anything but soft foods.
Do Anything But Dentures If Possible
I think you're going to have to switch dentists to do this, but you want a dentist who is willing to fight for your son. Someone who believes in him as much as you do and thinks he has value, even while still in recovery. I'm guessing some of his teeth can be saved. I'd like you to strive to save as many teeth as possible.

Until his teeth are healthy, you can use one of these. It leaves places for all his teeth which he still have. If he ends up with any other teeth which can't be saved, it is easy enough to pop another false tooth in there.

If he ends up not being able to save a large number of teeth, I'm going to strongly suggest you get him as many dental implants as possible. This places a prosthetic tooth root into his jawbone so his body realizes there is still a need for support there and leaves everything intact.

As I mentioned earlier, you will need to start by finding a dentist who is willing to fight for your son's teeth.

This blog is brought to you by Naperville Dentist Dr. David Newkirk.