Naperville Porcelain Veneers
If you are unhappy with your smile, porcelain veneers from Naperville cosmetic dentist Dr. Newkirk can work magic. You can lengthen your teeth, shorten them, straighten them, brighten them, fix chips, and erase discolorations and spots. The possibilities seem to be endless.
Porcelain veneers are thin wafers of porcelain, about the thickness of a fingernail, that are bonded to the fronts of your teeth to give you the look you want. They are called a "minimally invasive" procedure because of the minimal adjustment that needs to be made to your natural teeth before placing them. And once on your teeth, they are bonded so they become like second enamel. That is why they have become so popular. Movie stars and celebrities are famous for their smile makeovers. But they are actually affordable enough that you can have them, too, if you want.
And Dr. Newkirk is known around the world for his beautiful smile makeovers and his expert dentistry. In fact, other dentists have flown to him from around the country for new smiles. Even members of the Saudi royal family have come to him for their work. We're lucky here in Naperville to have him so close.
Porcelain Veneers Pictures
Here is a sample of one of his smile makeovers with porcelain veneers.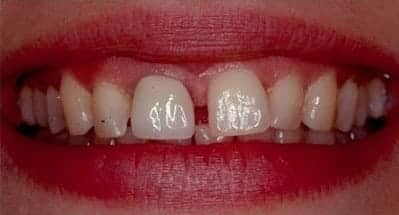 One of the two front teeth, the one on our left, is actually an existing crown. Dr. Newkirk replaced that crown and matched it with a set of porcelain veneers.
*Actual patient of Dr. Newkirk.
Notice how the front tooth on our right is not only crooked, but the gumline is higher than its companion front tooth.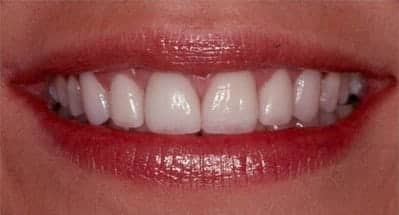 With careful planning and artistic talent, Dr. Newkirk has produced a result with no gaps, where the teeth appear perfectly straight, bright, harmonious, and totally natural. No one would know, looking at these teeth, that they aren't the person's own, natural teeth.
If you would like a new smile, give us a call or you may click here to request an appointment online. We'll be happy to help you reach your dreams.