Confusion Regarding Lumineers
Can you help me understand why some cosmetic dentists swear by Lumineers and others think they're the worst?
Terri B.
Dear Terri,
There is a wide variation of abilities among cosmetic dentists. Some are just after functionality, while others want their work to be aesthetically beautiful as well. When it comes to things like getting a smile makeover, you definitely want to end up with the latter dentist.
The "controversy" over Lumineers is because of that wide variety you get with cosmetic dentists. Generally, the better the cosmetic dentist, the less keen they are on the Lumineers brand. It's heavily marketed to inexperienced cosmetic dentists as being easy to place. The reason for that is they say it doesn't require any tooth preparation.
The big problem with that is very few smiles look natural without the tooth preparation, even with ultra-thin veneers like Lumineers. Instead, the teeth look bulky. Another issue many artistic dentists have with this particular brand is the lab. The company that manufactures Lumineers, requires dentists to use their lab, which isn't known for being highly skilled and artistic. Instead, most cosmetic dentists have a specific lab they prefer to work with which they know will produce the quality of results they're looking for.
Now, a dentist developing his cosmetic skills may think, "Man this is the best. I can work on veneers without worrying about proper tooth prep." But, You don't really want a dentist practicing on you with a permanent procedure…or, maybe you do. I shouldn't assume.
If You're Looking for a Great Cosmetic Dentist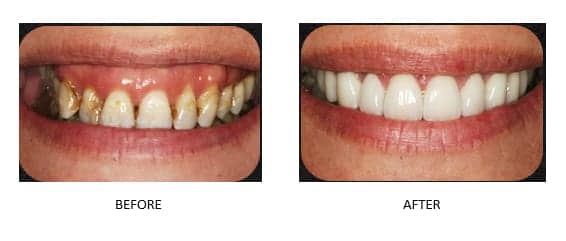 Let's say you're ready for a brilliant smile makeover. You want improved teeth that look natural. I've put a case that Dr. Newkirk did directly above. These teeth aren't just beautiful, they look like they could be her natural teeth and she's blessed with a stunning smile. That requires a significant amount of technical skill along with an artistic eye. Those are traits you can't determine just because someone has a dental degree on their wall.
So, how is a patient able to tell if they are going to a skilled cosmetic dentist or someone who's not so skilled. What brand they use isn't the tell all you'd think. For instance, just because they don't like Lumineers doesn't mean they're able to get any better results out of another brand of porcelain veneers.
In your place, if you're looking to get a smile makeover, I'd suggest looking on the mynewsmile.com website. You can do a search for an expert cosmetic dentist within a certain mile radius of your zip code. When a cosmetic dentist wants to be listed on their site, they check their cosmetic training, technical skill, and artistry. A dentist can't simply purchase their way onto the site. Instead, they have to demonstrate that they know what they're doing and do it well.
You'll get a smile you can be proud of with one of their recommended dentists.
This blog is brought to you by Naperville Dentist Dr. David Newkirk.