If I get porcelain veneers will they last my whole life or should I get braces?
My front teeth are crooked. I also want them to be whiter. Crest strips are a joke on my teeth. So I am thinking about porcelain veneers to give me straighter and whiter teeth. I know they are not cheap so I am wondering, at my age (23) if they will last my whole life, or will have to keep getting new ones? If they won't last my whole life then maybe braces will work, although I want veneers because it's so much faster to get the results I want. – Adi
Adi – We recommend that you visit a cosmetic dentist to
discuss your options for straightening your teeth and whitening your smile. Porcelain
veneers are one option, but other treatment may be best for your case.
How Long Do
Porcelain Veneers Last?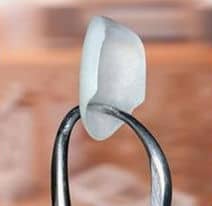 Veneers can last 15 to 20 years or longer, depending on how well you take care of them. You are still young, so if you receive porcelain veneers now, at some point, they will need to be replaced. Keep in mind that veneers are permanent and require preparation (light shaving) of your natural teeth. Once you receive them, you can't go back to your natural teeth.
What about
Orthodontics?
You can consider orthodontics to align your teeth. Braces may be an option for your case. You can also have your teeth professionally whitened by a dentist. Orthodontic treatment can last a lifetime and will be less expensive than porcelain veneers. After your treatment with braces, you will need to wear a retainer full time for about a year. After that, you will wear the retainer each night, likely for the rest of your life, to keep your teeth aligned.
Periodic teeth whitening touch-ups will keep your smile
bright. You won't have to worry about replacing porcelain veneers if you get
orthodontic treatment.
Schedule an appointment for a consultation or an examination
with a cosmetic dentist. He or she will let you know the pros and cons of orthodontic
treatment and porcelain veneers.
This post is sponsored by Dr. David Newkirk of Naperville. His peers have selected him as a top dentist in the Chicago area (as published in Chicago Magazine).