Veneers vs. Whitening: Naperville Cosmetic Dentist Explains When to Consider Which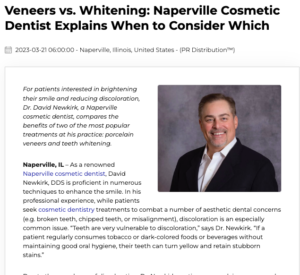 For patients interested in brightening their smile and reducing discoloration, Dr. David Newkirk, a Naperville cosmetic dentist, compares the benefits of two of the most popular treatments at his practice: porcelain veneers and teeth whitening.
Naperville, IL – As a renowned Naperville cosmetic dentist, David Newkirk, DDS is proficient in numerous techniques to enhance the smile. In his professional experience, while patients seek cosmetic dentistry treatments to combat a number of aesthetic dental concerns (e.g. broken teeth, chipped teeth, or misalignment), discoloration is an especially common issue. "Teeth are very vulnerable to discoloration," says Dr. Newkirk. "If a patient regularly consumes tobacco or dark-colored foods or beverages without maintaining good oral hygiene, their teeth can turn yellow and retain stubborn stains."
Due to the prevalence of discoloration, Dr. Newkirk continues, porcelain veneers and teeth whitening are two of the most frequently performed cosmetic dentistry treatments at his Naperville practice. "Both treatments can dramatically improve the shade of the teeth and, in turn, the overall appearance of the smile," he states, urging patients who want to whiten their teeth to consider the comparisons he has drawn below.
Firstly, Dr. Newkirk explains, porcelain veneers are thin, durable shells of material that are placed over teeth for aesthetic purposes. "Although veneers can be constructed out of several types of material," says Dr. Newkirk, "porcelain typically produces the most authentic-looking effect." Patients who wish to mask severe stains and other cosmetic concerns can often benefit from these restorations, which at many practices (including Dr. Newkirk's) are custom-fabricated by a ceramist to blend seamlessly with a patient's natural teeth. 
Meanwhile, teeth whitening is another minimally invasive treatment frequently offered at elite dental practices, says Dr. Newkirk. "Many variations of the teeth whitening procedure exist," he notes, "but in general, the most effective are performed in-office with a peroxide-based bleaching gel." To perform a teeth whitening session at his practice, he explains, he and his team create trays to fit precisely over a patient's teeth. The trays are then kept in place for the optimal amount of time, allowing the gel to oxidize the stains and produce a whiter, fresher shine.  
Dr. Newkirk concludes that while teeth whitening and veneers can both combat discoloration, the right choice typically depends on the severity of a patient's stains. "In most cases, veneers are better suited for more pronounced discoloration," says Dr. Newkirk. "Many patients also opt for veneers because, unlike teeth whitening, they do not require any touch-up treatments." Regardless, Dr. Newkirk states that patients should base their final decision on the advice of a qualified cosmetic dentist. "An experienced dentist will be able to determine the best solution for discoloration after an in-depth oral health evaluation."
About David Newkirk, DDS
Since establishing his practice 30 years ago, David Newkirk, DDS has offered the full breadth of dental treatments, including cosmetic, general, preventative, and advanced dentistry. Dr. Newkirk is an active member of the American Dental Association, the American Equilibration Society, the Chicago Dental Society, and the Illinois State Dental Society. Additionally, he has served as a professor at two prestigious institutions, the Northwestern University School of Dentistry and Dawson Academy for Advanced Dental Study. He is both respected by peers and highly regarded by patients for his wide range of skills and compassionate chairside manner. Dr. Newkirk is available for interview upon request.
To learn more about the practice, please visit napervillecosmeticdentistry.com.
Contact:
Naperville Cosmetic Dentistry
1816 Bay Scott Circle, Suite #108
Naperville, IL 60540
(630) 717-9499
Rosemont Media
(800) 491-8623